29 October 2008
Round 7 SXC Glentress
21st September 2008
Again a fine day for racing, a good breakfast taken on board by Gav and Steve who stayed overnight in Peebles, with only one or two refreshments taken on board. After a practice lap and the first run over the Ho Chi min trail, Gav wasn't impressed as it was a case of just keeping the front wheel straight and hope you don't hit a root. The course consisted of 4.5km of climbing and 2km of decent pretty much in that order so once the climb was finished it was all downhill just about.
First off was Gav who again showed up us lesser mortals by finishing fourth in his category, with no real training, posting a 26min fastest lap.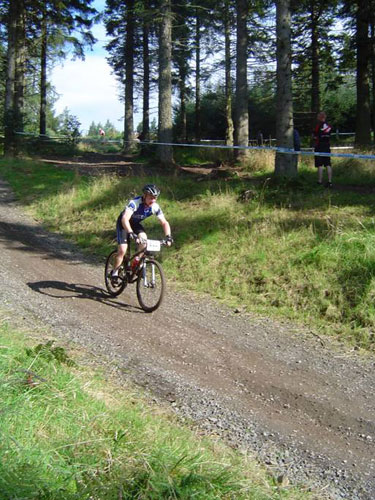 Next up was Paul who prior to the race had a goal of finishing in the top three and hoping that Andy Barlow finished lower than 8th. After a strong start, Paul just didn't feel strong enough to keep up with the leaders and eased back to finish in a still excellent 5th place - but where was Andy. He came in 8th! That means that they both finish the series on the same number of points. We think countback gives it to Andy (because he won two races to Paul's one) despite Paul having beaten Andy in four out of the six races they finished! Well done Paul and bad luck on missing out according to a dodgy countback system!
Finally came Steve who was racing in the Sports category for the second time. A best lap of 24mins saw the Tree complete the race 19th out of 27 starters over the four lap race. A steady performance which could have been better if the tree hadn't hit a root on the Ho Chi min trail on the last lap, losing a couple of minutes - passing two people on the hard fought climb and watching them sail by when your on the deck sucks!
Another good day for the club, although Paul narrowly missed out on the title, he knows that an accident free race calendar next year should result in him being too strong the opposition.
Glentress was followed the next Saturday by the Ullapool Sportive. Paul and Roddy "the Rocket" Murray raced in the 130 mile race, whilst Steve and Gav took part in the 65 mile short course.
Paul finished very strongly in 6th place in a time of 7:06hrs with Roddy finishing in 42nd in a fantastic time of 8:37hrs.
Gav and I set off in the hilly 65mile route together, with the weather providing the usual mix of wind and rain, and rain and wind etc. The first fifty I felt pretty good about myself until the hill out of Elphin brought me back to reality. It was a this point when my legs were burning and I though things were bad when I heard the distant calling of my teammate Gavin. He seemed to be enjoying himself, much of it due to the fact that I was not. Gav scooted on to finish 11th out of 107 starters in a time 0f 4hrs. I limped home to 13th, of which and big thank you goes to Stuart Gray of the West Highland Wheelers who nursed me back to the finish in a time of 4:04hrs.
Finally Pete Laing completed the trail design for the Castle Grounds designing 13km of new trails. This design is now submitted to the Forestry Commission as a bid for funding, the result of which will be announced on the 7th of November. Fingers crossed.
Steve