March 22 2012
Location: Coast between Ness and Tolsta , Isle of Lewis
Since 2007 both Errol and I have been discussing a trek between Ness and Tolsta, a cliff top route of around 16km. The route is known for its dramatic scenery, archaeology and exposed topography and has been a popular route for walkers, and people that like run these sort of routes (no names).
Logistics are complicated especially when bike transportation is considered, so Gav's sister Tricia came to the rescue to drop us off at Ness and pick us up at Tolsta approximately 3-4hrs later (accompanied by Meaban the dog).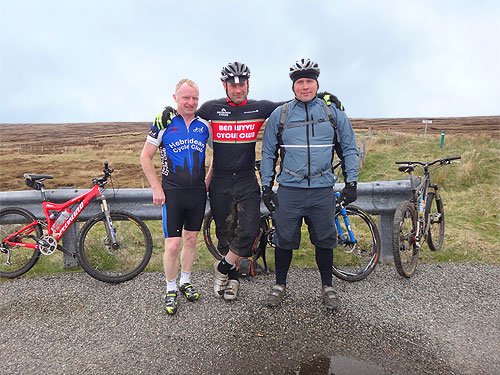 Gavin, Steve and Errol at end of Adabroc road
At the drop off point at the end of the tarmac, it was a wintery 3-4 degree's with flakes of snow dancing on the strong northerly wind. A quick team shot to show what a good looking club we are was taken by Tricia and we set off at a leisurely pace until our extremities were warmed up (never really occurred). The first few kilometres were on good quality peat tracks with peat cutting in full swing.

The old church at Dun Filiscleitir
At Filiscleitir the track ended and we made our way following sheep tracks to the old church at Dun Filiscleitir, which as shown in the accompanying picture is spectacular and comes with a real sense of history.

Cliff top ruin near the old church at Dun Filiscleitir
After time spent attempting photography we headed along the cliffs to Dhiobadail, following sheep trails all the way. The old village at Dhiobadail would usually be a good excuse for a wonder to look at the remnant woodland (Aspen and Hazel) but we pushed on – literally through the heather and up the steep gorge.

Steve and Errol on the moor
We then followed the non way marked trail along the cliff - passing a spectacular land slip in progress. Somewhere along here we were separated from Errol who attempted the post to post route. Although the waymarker posts represent a shorter more direct route, they don't represent any fun and take users away from the views and interest of the coast – representing a bit of a bog slog.

Errol at a spectular drop with a view north over the huge landslip
We regrouped at the shelter above the waterfall and made for the Leverhulme track, with myself making the error of going direct and crossing the river Abhainn na Cloich by the waterfall.

Steve nearing the end of the ride - Traigh Mhor in background
Wet, but with a clean bike I met Errol and Gav on the Leverhulme road and with hard ground beneath us we freewheeled to the car park at Traigh Ghearadha, where our chariot was waiting.

End of ride at Traigh Ghearadha

Traigh Ghearadha
All in all a tough ride in sections, but one of the most memorable rides or experiences I've had over the years.
Steve
Slideshow of route