Routes: Tiumpan Head loop
9 mile loop takes about 2 1/4 hours - if you keep a good steady pace and don't stop too long to admire the views or re-ride too many of the optional technical challenges!
Less than a mile of road, rest is pretty much sheep tracks or no tracks! Moorland section is pretty firm with the odd little boggy ditch thrown in as a challenge. Just north west of the lighthouse is a very steep grassy hill - only the most foolhardy should try and ride down it as the consequence of an off could be fatal!
Unless you go looking for excitement there is nothing fast or particulary difficult but its grass pretty much all the way so its a tough ride. Several options to shorten or extend ride.
Photo on right is not from route but shows Lighthouse section in the distance.
Shots below are of the section near Aird - taken on a slightly calmer and warmer day!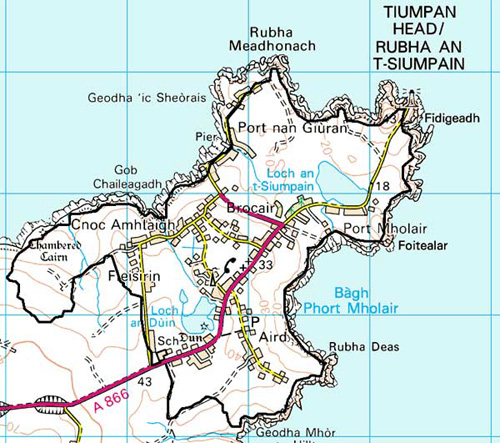 Elevation Profile - anti-clockwise round loop starting at Aird School